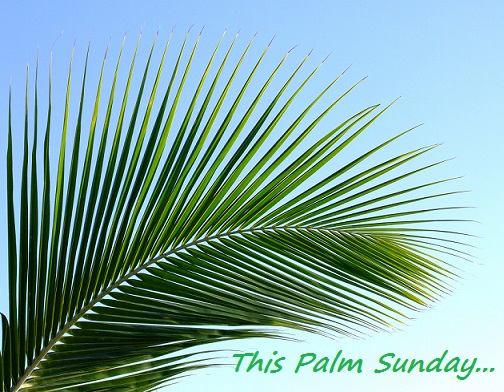 I've always loved Palm Sunday. Quieter than Easter, this Palm Sunday I'm sharing with you some of my current musings.
If we look to the masses to bring meaning and esteem to our life, we'll always be disappointed.
As Jesus approaches Jerusalem, the crowds literally go wild. They are cheering and shouting, "Hosanna". Waving palm branches and covering the street with the same, this fickle group who praise the Messiah with their greetings will be screaming for His crucifixion only a few days later.
Don't let the emotions and opinions of people outweigh the voice and guiding of the Holy Spirit in your life.
My sheep listen to my voice; I know them, and they follow me. I give them eternal life, and they shall never perish; no one will snatch them out of my hand. John 10:27-28
So often the best moments of our life will have sorrow as a sidekick.
Christ is at the peak of His earthly ministry on Palm Sunday. Yet by Thursday He will be betrayed, arrested, and subsequently beaten beyond recognition. Nothing that happens this week will be a surprise to Him, and yet He enters it humbly and willingly.
How many of your best memories have been shadowed by grief? Perhaps a loved one's death, as a little one is born? Maybe you've watched your children opening their presents on Christmas morning, while swallowing the bitter lump of disappointment in your throat from a divorce you never thought would happen? An unexpected illness, during a joyous milestone?
Smiles and tears make painful companions, but that's life here in this broken world.
I have told you these things, so that in me you may have peace. In this world you will have trouble. But take heart! I have overcome the world. John 16:33
The least we can do is love.
This was God's only son. He didn't have an "heir and a spare". Everything was riding on this sacrifice that would cover every sin that had been and would be made. And He let it happen so we could have the gift of an eternity with Him.
Of all of our responses, the least we can practice is love as we bide our time down here. And who knows, maybe we'll get really good at it.
But God shows his love for us in that while we were still sinners, Christ died for us. Romans 5:8