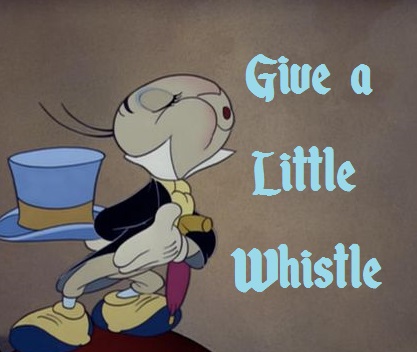 If there's one thing that you should know about me, please know this – left to my own devices I'm a hopeless, pathetic, wreck of a human being. It is only by the power of the Holy Spirit that there is any good in this girl. Other than that, I got nothin'.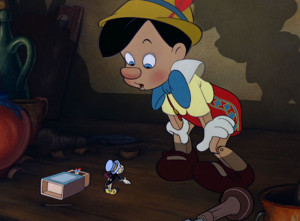 I've often thought of the Holy Spirit like my own Jiminy Cricket. A constant companion, looking out for the brightest and best in me.
In singing "Give a Little Whistle" to his new pal, Pinocchio, there are plenty of Biblical truths that can be inserted in place of Jiminy's lyrics. Something like this:
When you get in trouble and you don't know right from wrong,
give a little whistle!
Give a little whistle!
The simple inherit folly, but the prudent are crowned with knowledge. Proverbs 14:18
They shall teach my people the difference between the holy and the common, and show them how to distinguish between the unclean and the clean. Ezekiel 44:23
When you meet temptation and the urge is very strong,
give a little whistle!
Give a little whistle!
And lead us not into temptation, but deliver us from evil. Matthew 6:13
Let no one say when he is tempted, "I am being tempted by God," for God cannot be tempted with evil, and he himself tempts no one. But each person is tempted when he is lured and enticed by his own desire. James 1:13-14
Not just a little squeak,
pucker up and blow.
And if your whistle's weak, yell, "Jiminy Cricket!"
Call to me and I will answer you…Jeremiah 33:3
Likewise, the Spirit helps us in our weakness. Romans 8:26
Take the straight and narrow path
and if you start to slide,
give a little whistle!
Give a little whistle!
And always let your conscience be your guide.
He will make straight your paths. Proverbs 3:6
But the Helper, the Holy Spirit, whom the Father will send in my name, he will teach you all things and bring to your remembrance all that I have said to you. John 14:26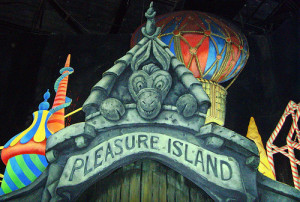 Sweet Holy Spirit! If it wasn't for the Helper's presence in my life, I'd be as lost as a jackass on Pleasure Island…truly!
It's a choice, and one I have to make way too many times a day, to be Spirit led. As much as my mushy, human self rebels, I know it only works when I let go of the reins.
To set the mind on the flesh is death, but to set the mind on the Spirit is life and peace. Romans 8:6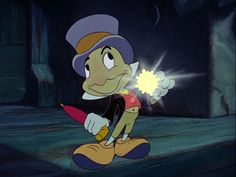 I don't always get it right, not nearly enough, but the daily special is the Holy Spirit, and choosing life with a side of peace tastes so good…order up!