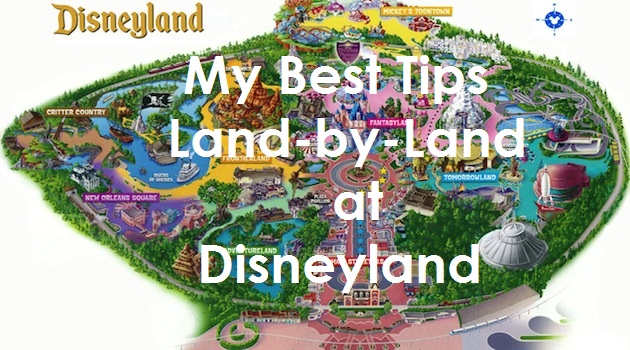 After a lifetime of visiting Disneyland in Anaheim, California, I'm giving you my personal opinion about my best tips in each of its lands.

Main Street U.S.A.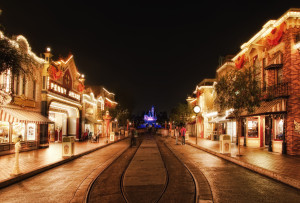 This is where your Disneyland visit will begin and end. Unfortunately, as you rush through Main Street to get to your first attraction, or as you drag yourself down the street when exiting the park after a long day, you might have missed its charm all together.
My best tip for Main Street is to spend some time touring this magical place!
Rich in history, this is where Walt Disney stood to give his opening day address on July 17, 1955. Look for the lamp in the window above the Fire Station…Walt lived in that apartment!
Browse through shops. Have a snack. Ride a horse-drawn trolley. Catch a showing of 'Great Moments with Mr. Lincoln' and see Walt's bench, where he dreamed of his beloved park, in the lobby as you enter. Pass through the turnstile into Main Street Cinema and watch one of the classic cartoons that launched Mickey Mouse to stardom.
Whatever you do, don't miss the history and charm that surrounds and covers this entire street!

Adventureland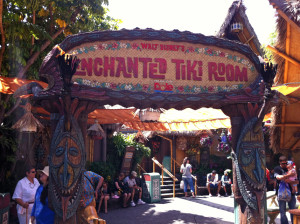 A visit to the Enchanted Tiki Room is my best tip when entering Adventureland. Heads and tails above its counterpart in Walt Disney World's Magic Kingdom, this is the show that Walt Disney was personally involved in creating.
As you enter the waiting area you'll typically find plenty of seating, a much shorter line for a Dole Whip (which you can take with you into the show!), a fun pre-show with a display of the various "powers" of the Polynesian gods, and even a hidden potty!
The show itself is a classic, and enjoyable for the young and young-at-heart.

New Orleans Square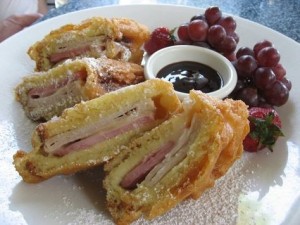 Yes, NOS has Pirates and the Haunted Mansion, and those are great. But my best tip for NOS is…the Monte Cristo sandwich. Check out this description:
"Adapted from the classic French croque-monsieur sandwich, this battered turkey, ham and Swiss treat dusted with powdered sugar and served with berry purée is truly a slice of heaven." Café Orleans – Disneyland
If you haven't tried one of these sandwiches, there really aren't words for how much you're missing out. If you haven't tried Disney's version, then you simply haven't tried the best!
These sandwiches (aka manna from heaven) are available in two locations at Disneyland, both in NOS. At Blue Bayou, you can order this delicacy for lunch only. At Café Orleans, the Monte Cristo is available for both lunch and dinner. Also at Café Orleans is the vegetarian, sister-sandwich – the Three Cheese Monte Cristo!
Both of these locales offer reservations, so get yours before your next trip. You won't be disappointed!

Critter Country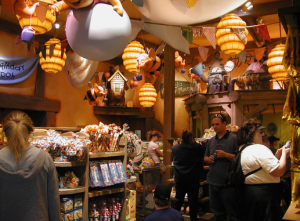 There's something so very delightful about watching Disney candy makers in action, and at Pooh Corner you can do just that.
This shop is located just steps away from the exit of The Many Adventures of Winnie the Pooh attraction. Inside you'll find not only a well stocked shop, bursting with all things Pooh, but the second location in Disneyland where you can see confections being made for purchase. (Bonus points if you can tell me where the other is located!)
Stop on by and get a Tigger Tail!

Frontierland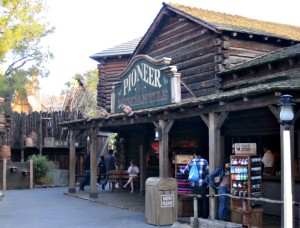 This land was the most difficult for me to narrow down one best tip. I just love this area of the park. Big Thunder has been recently re-imagined. One of my favorite places to eat, Rancho Del Zocalo, is located here. The Golden Horseshoe is full of nostalgia, and a darn good place for an ice cream treat.
You know what it finally came down to? Smell. Yep, my best tip for Frontierland has to do with the smell of leather that is found right outside of the Pioneer Mercantile. This store is one of my favorite shops in all of Disneyland, and right outside you can purchase unique, personalized leather goods.
One sniff of this shop and I'm a ten year old girl in pigtails, dreaming of a leather, Mickey keychain stamped L-Y-N.
Check it out on your next trip!

Fantasyland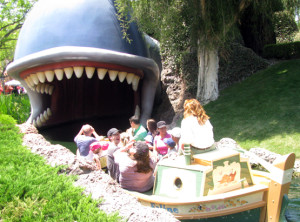 Not to be missed, my best tip when visiting Fantasyland is a ride on Storybook Land Canal Boats.
This attraction is original to the park the year it opened in 1955. You board a boat, which are all named after different Disney characters, and float through a miniature wonderland.
Walt Disney was fascinated with miniatures, and no ride better encompasses this passion than the scenes of Storybook Land.
You're sure to find something you "didn't see before" on every ride. For example, be sure to notice how perfectly the Matterhorn lines up with the snow covered peaks surrounding Pinocchio's village as you sail by. A voyage at night is just as pleasant as during the day. Just be aware that this attraction does close during parades and other events.
Little known fact: if I could choose one job at Disneyland, it would be to captain the Merryweather boat at this attraction. And I've practiced the narrative, my friends…oh, yes I have!

Tomorrowland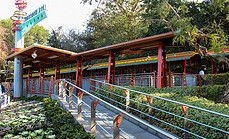 What's my best tip for Tomorrowland? Why, to board the Disneyland Railroad from its station, of course!
Disneyland has four train stations, but often times the least crowded is found in Tomorrowland. Grab a map, and you'll see this station tucked behind the Autopia.
All aboard!
And there you have it! We've taken a grand-circle-tour around Disneyland, and I hope these tips are useful as you plan a visit to what is truly The Happiest Place on Earth!