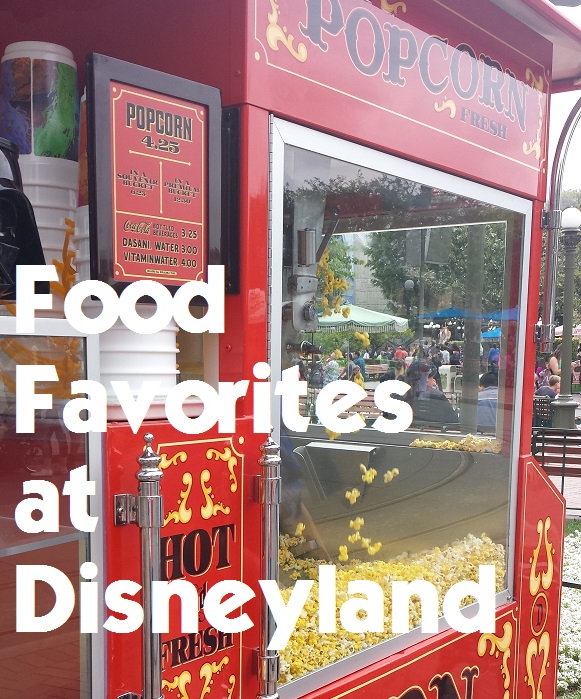 Considering that eating is one of the parts of a Disney vacation that I enjoy the most, you'd have thought I would have gotten around to this article long ago; but, no time like the present, I'm covering my favorite snack, quick service location, and table service restaurant in Disneyland.
Keep in mind that I've eaten multiple times at just about every location in the park…so I know a thing or two about this particular subject. Let's see how my opinions jive with your own on this tasty subject!

Favorite Snack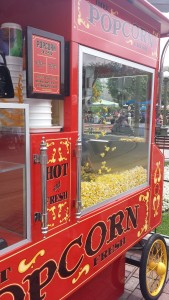 Though the options for snacks seem to be literally around every corner in Disneyland, I'm not a huge snacker. I'm also, surprisingly, not big on sweets. But there is one snack at Disneyland that is a must have for me on every single trip, and that's their popcorn. Give me a cold Coke and a box of popcorn and I'm a happy girl.
You can find plenty of these carts scattered throughout the park, or just follow your nose to that unmistakable aroma.
And when you purchase your popcorn, make sure to notice the adorable, if somewhat creepy, popcorn turner unique to that cart. Popcorn turners, affectionately known as roastie-toasties, have their own following at Disneyland…seriously! They are themed to the land that they're located in, and there are even turners that come out for various seasons.
Favorite Quick Service Location
Okay, so now that I've clued you in to the roastie-toastie subculture, here's some more Disney vernacular. Restaurants in Disney parks are either quick service or table service, the difference being how you are served your food. If you are serving yourself, then the location is considered quick service. If a server is waiting on you, then you are at a table service location. Easy-peasy!
My favorite quick service restaurant in Disneyland is Rancho del Zocalo. Other than being extremely fun to say (make sure to trill the R!), the food is good, and the décor and location can't be beat. My family has enjoyed this place for decades.
This restaurant has had a long history in the park. It originally opened as Casa de Fritos in August 1955, and was sponsored by Frito Lay. The next transformation, and the one I remember most, was Casa Mexicana, sponsored by Lawry's. The present restaurant opened in 2001, with the name Rancho del Zocalo. Zocalo means "town square" and pays homage to the influence the
Zorro
television series had on Frontierland in years past.
Rancho del Zocalo serves traditional Mexican fare for breakfast, lunch, and dinner. As I'm an Arizona native, and happen to love Mexican food, it's not the best I've ever had. But it's tasty, it's easy to find something that everyone will eat, and it's right next to my favorite roller coaster – Big Thunder Mountain Railroad.
Be aware that this restaurant is split into two zones for ordering food, each having its own menu. Your food is made right as you order it, so it's fairly easy to customize with an extra scoop of sour cream or a request to go light on the enchilada sauce. This is also one of the few quick service locations that allows you to get refills on your fountain drinks – BIG plus!
Favorite Table Service Location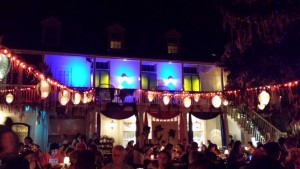 If I had to pick my favorite restaurant in Disneyland, it's got to be Blue Bayou. From the smell of the bayou water nearby, the ambiance of the candlelight, to the best Monte Cristo sandwich you'll ever experience, this place is a Disney gem.
(Just a quick peek inside my noggin, the French student in me always wants to replace 'Blue' with 'Bleu'.)
As a little girl I remember asking to go on the ride "with the people that watch you at night." I have no idea how long it took my mom to realize I was talking about Pirates of the Caribbean, and the people were the patrons in Blue Bayou. From an early age this restaurant has held loads of nostalgia for me, and I still get excited to make an ADR for this place.
(Notice how I snuck in some more lingo there? ADR is the abbreviation for advanced dining reservation, which can only be made for table service locations. You're going to sound like such a Disney expert!)
Blue Bayou is the priciest restaurant in Disneyland, and the menu varies a bit between lunch and dinner. But if you're looking for the perfect spot for a special occasion on your next visit, you can't beat the bayou!
So what do you think? Did any of my picks match your own? I'd love to hear about your favorites!