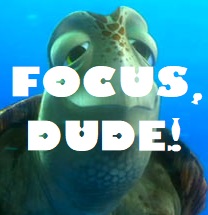 "Focus, Dude!"
Those were Crush's words to Marlin in
Finding Nemo
, as Marlin groggily woke up from the jellyfish nightmare he and Dory had just experienced.
Over and over I hear these words, in the same, slow, surfer drawl of that sea turtle, as I get busy and distracted by the swirl of life happening around me.
Why is what we choose to focus on of such importance?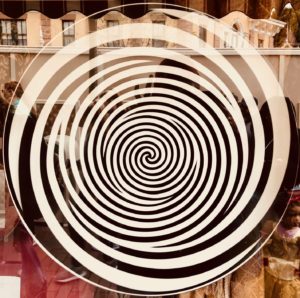 In a window, outside the Main Street Magic Shop in Disneyland, there's an illusion. You stare at the center of a swirling, black and white wheel for thirty seconds and then look at the back of your hand.
In the spring of 2015, I remember stopping at this window with the two, 13-year-old boys I was chaperoning and telling them to give it a try. Hey, it was free fun that completely freaked them out…winning all over! Their reaction, as they watched the skin on their hands twist and turn, is still fresh in my mind.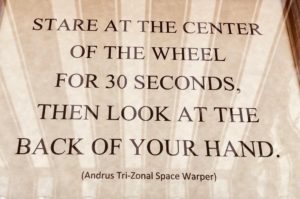 Walking past that same window on a recent trip brought unexpected tears to my eyes. Crying my way down Main Street caught me unaware as I relived that moment between my oldest son, Riley, and his best friend, Joe, who unexpectedly passed away in September of 2016.
Just like the skin on the backs of our hands, just like Crush's wake up call to Marlin, what we focus on changes the way we see the world around us. God has always known this, which is why we're instructed to deliberately direct our focus using these guidelines:
Finally, brothers, whatever is true, whatever is honorable, whatever is just, whatever is pure, whatever is lovely, whatever is commendable, if there is any excellence, if there is anything worthy of praise, think about these things. Philippians 4:8
Set your minds on things that are above, not on things that are on earth. Colossians 3:2
But we are looking forward to the new heavens and new earth he has promised, a world filled with God's righteousness. 2 Peter 3:13
A little later on in
Finding Nemo
, we find Marlin and Dory cruising the EAC with Crush and a gajillion other sea turtles. They're about to exit this roller-coaster-of-a-current into Sydney Harbor, and hold tightly to each other.
Instead of the East Australian Current, let's think of the EAC as:
Eyes
Affixed on
Christ
I'm the first to admit that I struggle with my focus, letting negative thoughts and discouragement seep in. I often cling to my own buddies, hoping to find some relief, some comfort, as I'm thrown headlong out of the usual flow of things. But how much better might our life be if we change what we focus on and turn our eyes to Jesus?
Those who look to him are radiant, and their faces shall never be ashamed. Psalm 34:5