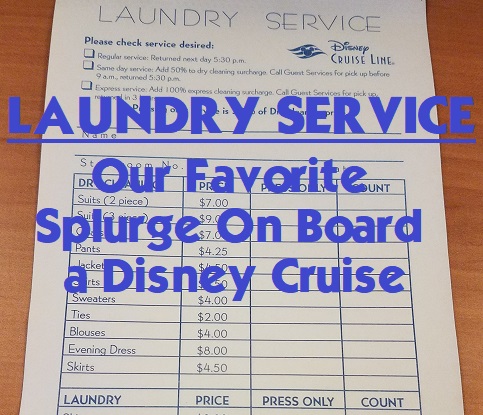 My husband and I recently returned from a cruise through the Panama Canal on board the Disney Wonder. In this article I want to tell you about our favorite splurge, which came as a surprise to us both. We fell head over heels in love with the ship's laundry service!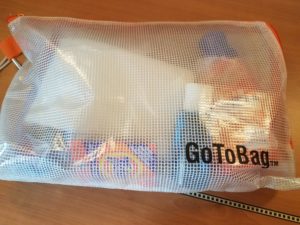 I did my best to prepare for each and every detail of our time at sea. Since we would be gone for a total of 17 days, I knew that we'd need to do some laundry. I prepared for this by stocking a laundry kit.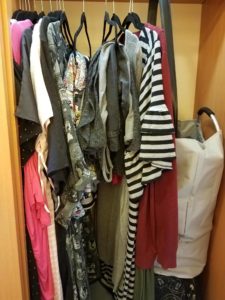 We kept this kit inside of our stateroom closet, near the laundry hamper we purchased for our cruise. I love this hamper because of its heavy duty handles for hauling dirty clothes to one of the ship's laundry rooms. Find a similar hamper for your stateroom on amazon.com.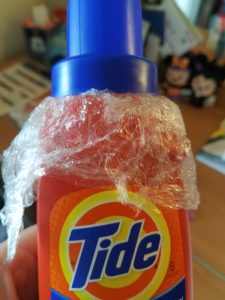 While detergent and various laundry supplies are available to purchase on board, we opted to bring our own. Tide Pods are a convenient option, or, if you're bringing your own liquid detergent, use this trick to avoid leaks in your luggage. Cover the tops of any liquids with a piece of plastic wrap before packing and you'll be good to go!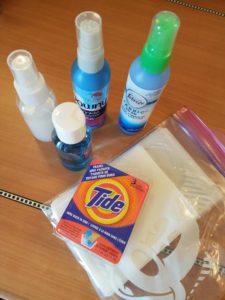 Inside of our laundry kit we had a travel size bottle filled with Spray 'n Wash and one filled with Dawn dish detergent. My husband swears by Dawn to remove greasy stains from our clothes. We also brought travel sized Febreze for use on our workout clothes, and a baggie with both dryer sheets and Shout ColorCatchers. If you're traveling with any new clothes that may bleed into your wash, I highly recommend ColorCatchers. I also purchased some Tide Travel Sink Packets, which came in super handy for washing our swimsuits. The one item I didn't use in this photo was the Downy Wrinkle Releaser. I know many people love this product, so I brought it along just in case.



On our Disney cruise we knew there would be several occasions where we would need to dress up. Since you're not permitted to have irons or steamers in your stateroom, I had planned on using the ship's on board service to have our clothes pressed. There is an iron and ironing board available for use in each laundry room, but here's what happens:
1) There are often several guests who also want to iron their clothes and are wondering why it's taking you so long to finish.
2) Since I'm not a professional ironer (as if that's even a thing), it does take me a long time to iron my family's clothes, and I'm not even all that happy with the end results.
3) In summary, I'm grouchy about formal night before it ever begins.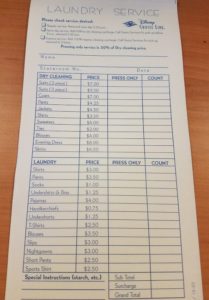 Learning from prior cruises, I wanted to send out the items we needed ironed to more capable hands than my own. I filled out this form, detailing each item we were placing in the laundry bag.




A Laundry Service form and laundry bag are placed inside of your closet, but you can also ask your stateroom host if you have any trouble locating them, or if you need more. Notice that beautiful sentence at the top of the form?

Pressing is half the cost of dry cleaning! For around $2, I can't imagine why you'd waste your time ironing those trousers. We had several items pressed for formal night, and our total was $16.05!

And that's when my husband was all in. Since there were only two of us traveling on this cruise, after getting this taste of laundry service, he didn't want either of us stepping foot inside of a laundry room. Best day ever!
For our fourteen nights on board, we had our clothes ironed once, and then sent a total of three additional loads to be washed. For all of this, we spent a total of $130.55. Worth every penny when you consider the time and energy involved in doing your own laundry on vacation.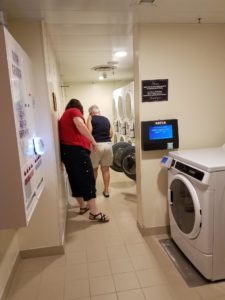 Again, the option to do your own laundry is available on each of Disney's ships. No cash is required. You can purchase supplies and the use of both washers and dryers with a swipe of your Key to the World card. All charges will be added to your account.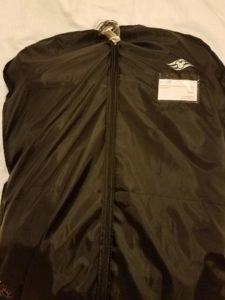 While we certainly enjoyed our splurge, and will do it again, we understand this may not be an option for everyone. But if this is something you'd like to budget for on your own cruise, let me just say that this bag waiting for you in your stateroom is a most welcome sight!